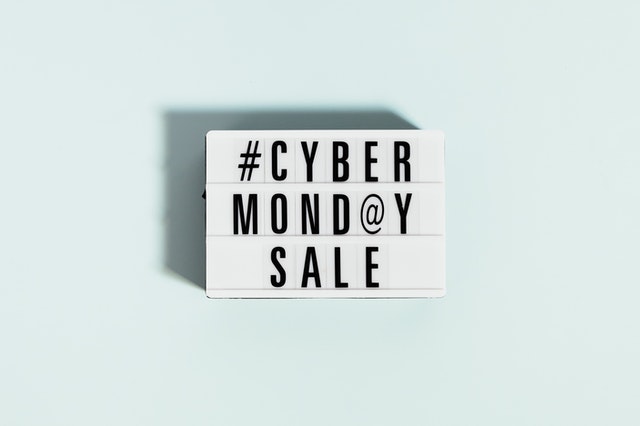 Black Friday and Cyber Monday Selling Tips
In only a matter of weeks from writing this article, the biggest selling event of the year in both brick & mortar and online retail will take place.
Often referred to as "Cyber Weekend" or "BFCM", Black Friday and Cyber Monday are just around the corner.
If you're currently active with your Shopify or Etsy store, you may already notice the Q4 buying frenzy has commenced and sales are increasing, as well as advertising costs.
eMarketer predicts that Cyber Monday 2021 will be the No. 1 US ecommerce shopping day ever, so let's take a look at what exactly Black Friday and CyberMonday are, and how you can maximize your sales during this crazy period!
What Is Black Friday and Cyber Monday?
For more than a decade now, Black Friday and Cyber Monday have been growing steadily year on year for ecommerce sellers.
Statista shows us that Cyber Monday consistenly out-performs Black Friday in sales volume.
But what exactly is Black Friday and Cyber Monday?
Well, Black Friday is the day after Thanksgiving in the USA and it kicks off what we now know as Cyber Weekend.
According to Wikipedia, Black Friday was a term used to describe the post-Thanksgiving shopping mayhem in Philadelphia in the 1960s.
Cyber Monday is the Monday following Black Friday and it is considered the final sale day of "BFCM".
This year, 2021, Thanksgiving in the US is November 25th and the Black Friday Cyber Monday weekend immediately follows.
Preparing Your Store For Cyber Weekend
Not only should you have your marketing strategy planned out, but you should also make some relevant changes to your Shopify or Etsy store to get in the spirit of the season.
Some of these suggestions may only be possible on Shopify stores, but here's some of the most important changes you definitely need to implement for BFCM.
Seasonal Products
You may have already read our other article about Christmas themed products, but if not make sure you do! Add some festive products to your store and make sure both existing and new customers are aware.
Countdown Timers
The BFCM scarcity is real and you need to make sure your customers are aware of it. There is an abundance of countdown timer and other scarcity apps in the Shopify App store so make sure you go check them out.
Upsell Apps
Our favorite is Monster Upsells when it comes to upselling more products to your customers, but a quick browse in the Shopify app store will give you plenty of upsell app options.
Offer Buy-Now, Pay Later
If you don't already have a split-payment finance option on your store, you definitely should get one before BFCM. You'll have to do your own research when it comes to fees and terms etc, but options like After Pay, Klarna & Sezzle are some of the more common apps.
Hero Images & Banners
Make sure your store actually looks like its having a massive sale! To do this, change up your hero images and add some custom-designed banners. Places like Freepik.com have a heap of pre-made templates you can use.
Marketing Tips To Sell More On Cyber Weekend
If you've already got a decent email list for your ecom store then you have a distinct advantage. According to Shopify, customers referred to your store via email marketing convert the highest compared to other channels.
If you only have a small email list however, don't fret. There are plenty of other ways you can make some serious sales this BFCM.
Retarget Past Store Visitors
If you're using Facebook ads, you can create a custom audience in audience manager consisting of all your store visitors for the past 180 days. You could then also exclude buyers, if you want.
You should always test variations of custom audiences and lookalike audiences as part of your overall FB ad strategy but whatever you do, make sure you are retargeting as much as possible so people know you are having a BFCM sale.
Email Past Buyers
If you have new products for the festive season or you're running discounts on existing products, or both, then you should definitely be emailing your past purchasers to let them know.
They bought from you once so if the experience was good, they'll buy again!
Be Active Across All Channels
Update your images and banners, post plenty of BFCM content and make sure you do it across all social channels. You want your entire audience to know about your BFCM sales.
This also includes email and SMS. Make sure you have a bunch of pre-written automations so you know that your customers are being bombarded with your BFCM goodness! (But don't spam, obviously) 🙂
Leverage Scarcity Everywhere
The countdown is real so make sure you actively push this message out to your audience. Once Tuesday hits, the BFCM sales are over and people will miss out.
Make it your duty as a business owner to let everyone know, every where so they are not disappointed.
The Final Word on BFCM
So whether you're new to ecommerce or a seasoned veteran, there's always ways you can improve you store's performance and have a successful BFCM weekend.
The best thing you can do is to get ready NOW for BFCM and make sure you're prepared well in advance.
Email and SMS can be scheduled, as can all of your social media content for the entire BFCM weekend.
If you have any queries about this article or any other Shopify or Etsy matter, please feel free to ask in our Facebook community.
Happy selling!